Branches of Inspiration
A series celebrating Canada's finest artists through …
OPERA, MUSIC THEATRE, SONG REPERTOIRE & MORE
WHAT is an Opera NUOVA Dinner Cabaret?
Join us once again for this treasured tradition in the Edmonton arts season Savour a four course dinner prepared by some of the top chefs in some of Edmonton's favourite restaurants.
Just as the beautiful birch tree takes root and revives landscapes where no other would before, NUOVA has paved the way for vocal artists across Canada and laid strong roots in the Edmonton arts community. As we move into our third decade we see the global reaches of our branches and invite you to be inspired by the expansive beauty of our artistic horizons. Each cabaret guarantees to be a unique and touching as our artists share their stories using musical classics, art songs and musical theatre standards, interspersed with jewels of new music and hidden gems.
One of Edmonton's best kept secrets!
WHEN do the cabarets take place?
Doors open at 5:15 pm
Dinner & entertainment start at 5:45 pm
Evening ends at approximately 9:00 pm
See the full event calendar below for dates.
Ticket Information
Tickets are on sale now over the phone or online!
Tickets are $95 (CAD) per person for each event.
Ticket price includes a 4-course meal, tax, gratuity & a $25 charitable tax receipt.
Buy a Subscription Pack and save BIG!!!
Purchase 4 or more events and receive a discount off your order

4 event pack – $345 ~ SAVE $35 per person
5 event pack – $430 ~ SAVE $45 per person
6 event pack – $515 ~ SAVE $55 per person
Order By Phone through the opera NUOVA box office at (780) 487-4844 or online (follow the links below)
We are really looking forward to seeing you at the Cabarets!
Now you can buy your PAKS ONLINE!
---
2018 / 2019 Dinner Cabaret Performers
October 14, 2018
Jan van der Hooft & Adam Harris


with Kim Cousineau, pianist
SOLD OUT


Normand's
11639 Jasper Avenue NW
On the eve of beginning their season as members of Calgary Opera's Emerging Artist Program, NUOVA alumni Jan van der Hooft & Adam Harris will kick off NUOVA's 21st cabaret series. Tenor Jan van der Hooft has been invited to appear as a soloist with several organizations across the prairies and eastern Canada. This season he will make his début as Tybalt in Calgary Opera's Roméo et Juliette. Described as "intuitively musical" and "distinctively dramatic", baritone Adam Harris has recently been engaged by Stratford Music Festival and the Indian River Festival. He has recently performed with Kelowna Opera as Marcello in La Bohème & with Against the Grain's production of Claude Vivier's Kopernikus at the Banff Centre. These vibrant performers will entertain you with opera delights and classic music theatre.
---
December 2, 2018
Michelle Minke
Expect the Unexpected
SOLD OUT

Sorrentino's Downtown
10162 – 100 St.
Expect the Unexpected with award winning soprano Michelle Minke. Coming fresh out of releasing two albums this season, the YYC Music Awards have just nominated her as Female Artist of the Year. Trained at the Royal Academy of Music in London, England and the Georg Solti Accademia in Italy, Michelle toured Europe before returning to her hometown of Calgary where she has been named Top 40 Under 40 by Avenue Magazine and one of Alberta's 25 most inspiring artists by AFFA. As Founder and Artistic Director of Cowtown Opera, it is her life's goal to break the stigma of opera and make it accessible for every generation by collaborating with other art forms and singing in English. Join Michelle Minke for an evening of variety as she performs the hits with a fun twist – everything from "O mio babbino caro" with a country seel guitar, to an operatic version of "Stand By Me". By the end of the evening, you will have experienced something truly unique and be singing "O sole mio" out the door!
---
February 10, 2019
Lida Szkwarek
with Aidan Ferguson, Andrea Pinna
& pianist Leanne Regehr
Bottega Italian Kitchen off Whyte
10335 83 Ave NW
Soprano Lida Szkwarek is quickly establishing herself as one of Canada's prominent young artists. She is no stranger to Alberta, having sung Micaela in Edmonton Opera's Carmen, the title role in Calgary Opera's Filumena, and returning to NUOVA last year to participate in the inaugural year of the Kipnes Alumni Mentorship Program.
Unfortunately Andrea Hill is no longer available to perform at the Cabaret. We are grateful to Aidan Ferguson & Andrea Pinna, two wonderful Edmonton Artists who will be joining Lida for an exceptional evening of artistry.
You may know Aidan Ferguson (Johnston) as Opera NUOVA's Arts administrator, but she is also a succesful dramatic soprano. She returns to Edmonton Opera as Sandman & Dew Fairy in their new production of Hansel & Gretel. In the fall Aidan made her Wagner debut as Fricka in Das Rheingold with Montreal Opera. She is gaining an enviable reputation based on her effortless musicality and dramatic intensity. Praised for her recent performance as Mère Marie in Les Dialogues des Carmelites with l'Opéra de Montréal, she has appeared in Canada and for Theater Basel in Switzerland, singing such roles as Emilia in Otello, Nicklausse in Les Contes d'Hoffmann, the title role in The Rape of Lucretia, and Zweite Magd in Strauss's Daphne. Since returning to Canada, she has re-focused her repertoire, moving toward soprano roles under the mentorship of Frances Ginzer.
You may remember Andrea Pinna from last year's Opera & Music Theatre Festival Song & Aria concert. He blew our audiences away with his rich & vibrant dramatic tenor voice. Born in Cagliari, Italy, Andrea moved to Canada in 2014. His artistic singing career started late in life at 33 in the tourist village of Sardinia Island. The experience of singing in public was surprisingly emotional for Andrea. As a result of this sudden success, Andrea began to study classical lyric singing supported by professional coaches who helped him and who introduced him to professional classical singers. He discovered a natural talent for the grand tenor repertoire. Andrea studied in many important Italian music centers like Milan, Bologna Palermo and of course in his native Cagliari. In 2012, Andrea produced a CD of Italian popular arias and Neapolitan songs with much success.
---
March 10, 2019
Isaiah Bell

with Shannon Hiebert, pianist

Oliveto Trattoria
500 Riverbend Square
Isaiah Bell is a Canadian-American tenor whose recent seasons have seen him appearing at Carnegie Hall and Lincoln Center, creating a lead role in the world premiere of Rufus Wainwright's Hadrian at the Canadian Opera Company, singing with the Mark Morris Dance Group, the National Arts Centre Orchestra and the Toronto Symphony, and the Innsbruck Festival of Early Music in Austria, among others.
In "The Stranger," his candid, funny, and heartfelt cabaret-recital, Isaiah curates a heterogeneous mix of material: Western Classical art songs are set against twentieth century pop music, spoken miniature poems from 8th century China and the Japanese haiku tradition, unaccompanied folk tunes, cabaret and classic musical theatre, and original songs and lyrics of his own.
Each divergent fragment touches one of the eternal questions: "What's it all about? Where do I belong? What matters?" Together they form an experience that has been called "transformative."
---
May 5, 2019
The Chickadeez

Vaticano Cucina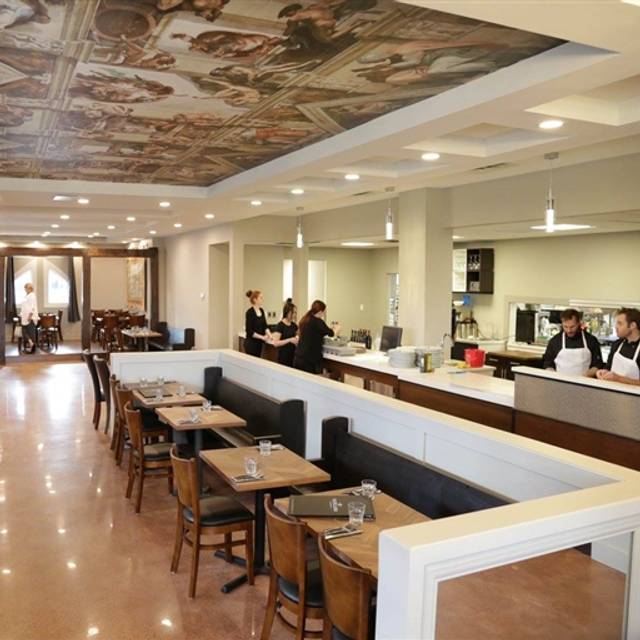 10310 45th Ave NW
The Chickadeez are an Edmonton based trio that have been singing together since the summer of 2013. Its members – Allison Tatham, Karen Vooys and Marie Hill – have many things in common: each have been educated and work in various areas of the medical field, have young/growing busy families, and most importantly LOVE to sing and entertain. Their close vocal harmonies are a treat for the ears, and their tighter friendship and connection to the music make the audience experience "All the Feels". While they enjoy many vintage trio classics, such as tunes sung by the Andrews Sisters, The Chickadeez love to delve into many genres to satisfy their diverse musical palette and their audience's as well. While they live busy lives, they always make time for their passion of music and have had the opportunity to sing at many events around Edmonton. You may have seen them singing at an Edmonton Eskimos game, Fort Edmonton Heritage Festival, the Make Music Edmonton Festival, Cafe Blackbird, Podium 2016, Run for Music and many more fundraisers and local events. The Chickadeez look forward to sharing their unique style, quirky personalities, and passion for music with you.
---
June 2, 2019
The Forgotten Golden Age
2019 Festival Emerging Artists
Sponsored by Doward & Company

LUX Steakhouse
10150 101 Street NW
With over 50 musicals opening in a single season, the 1920's was the busiest decade for Broadway. The emerging artists from the 2019 Opera & Music Theatre Festival will share songs from the operettas of the time which planted the seeds for the expansive landscape of Broadway musicals to follow. Enjoy works by Sigmund Romberg, Victor Hebert, Jerome Kern and Rogers & Hart and leave humming tunes from Showboat, No, No, Nanette, Deep in My Heart and more! This will be a thrilling evening of theatrical music sung by passionate artists!